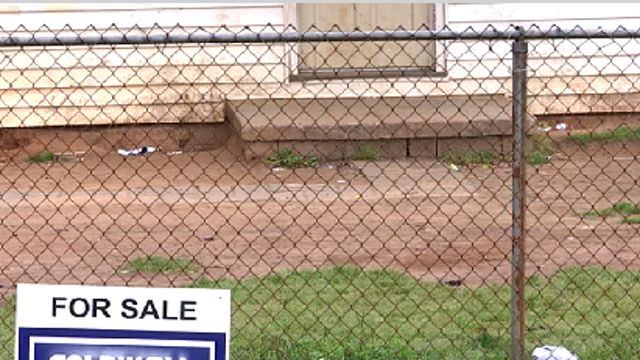 WINSTON-SALEM—Winston-Salem has the highest number of so-called "zombie" foreclosures in the state.
A new report says about 8.5 percent of all foreclosures in the city are considered as such. But longtime realtors in the area paint a much different picture of the area market.
RealtyTrac, a national real estate research firm, defines zombie foreclosures as those where the house is already under foreclosure and owners pack up and leave it vacant.
"I think one of the reasons that people have anxiety around foreclosures is that they want to know, 'Is this going to affect the value of my property?'" said Winston-Salem city council member Jeff MacIntosh, who is also a realtor.
MacIntosh says he's just not seeing many of them in his business.
"In the market right now, we're not seeing a negative impact from foreclosures," MacIntosh said. "We are seeing probably the healthiest, strongest market for single family residential as we've seen in the last seven or eight years."
"I'm not seeing that at all," said Fannie Fleming, a realtor with Coldwell Banker. "In fact, I thought foreclosures were going down. I have been able to sell homes at great prices in a very timely fashion this year, so I don't understand those statistics at all."
Area realtors also point out that RealtyTrac's definition of a zombie house is one where the U.S. Postal Service is not longer delivering mail; so oftentimes, a house will remain vacant, but it's not necessarily in foreclosure. Realtors say they have several just like that.
"I have someone coming in that's selling their mom's house who has passed away," said John McPherson with Coldwell Banker. "That would probably be a zombie thing there, and it's just vacant because someone has passed."
McPherson adds that he's on track for his best year ever.
"I am within striking distance to sell the same number of homes as I did last year, in the month of June," he said.
RealtyTrac says states with the most vacant "zombie" foreclosures are New Jersey, New York, Florida and Illinois.
via http://www.twcnews.com/nc/triad/news/2016/05/20/winston-salem-ranked-highest-in-nc-for–zombie–foreclosures.html